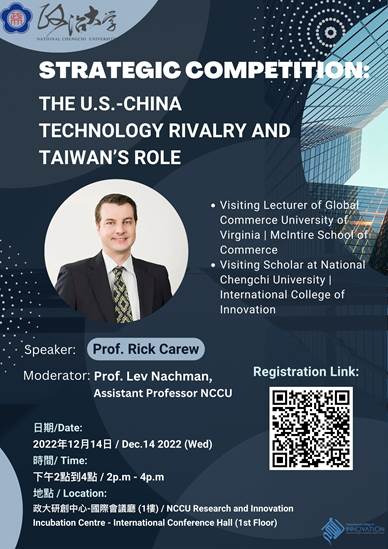 Observations + Q&A with Prof. Rick Carew, Visiting Lecturer at University of Virginia and Visiting Scholar at NCCU
Questions: rcc3s@virginia.edu
🕮Date and Time: Wednesday, 14 December, 2pm – 4pm
🕮Venue: NCCU Research and Innovation Incubation Centre — International Conference Hall – 1/F
The U.S.-China bilateral relationship is as fraught as it has been in a generation with both sides increasingly viewing their counterpart as a strategic competitor in geopolitics and technology. In the two decades since China joined the World Trade Organization, the two countries' economies have become deeply intertwined as China became the world's factory and the manufacturing base for essential technology, such as Apple's iPhone. Prof. Carew will discuss how this dynamic has evolved and what led us to recent U.S. restrictions on high-tech exports to China and Beijing's shift toward self-reliance.
Taiwan plays a central role at the nexus of the U.S.-China relationship as both a political flashpoint and facilitator of trade and management expertise between the U.S. and China. Taiwan's rise as a crucial node in the global technology supply chain, particularly the semiconductor industry with homegrown global leaders, such as TSMC, has taken center stage in the U.S.-China technology rivalry. In this talk, Prof. Carew shares observations from his semester as a visiting scholar at National Chengchi University's International College of Innovation interviewing industry experts, executives, and diplomats in Taiwan and considers potential paths forward for policymakers. A presentation on Prof. Carew's research will be followed by a Q&A session with students, guests, and media in attendance.
Prof. Carew is available for one-on-one media interviews after the session by request.
🕮Speaker: Prof. Rick Carew
Visiting Lecturer of Global Commerce | University of Virginia
Visiting Scholar | National Chengchi University | International College of Innovation
🕮Introduction and Moderated by Prof. Lev Nachman
Assistant Professor | National Chengchi University