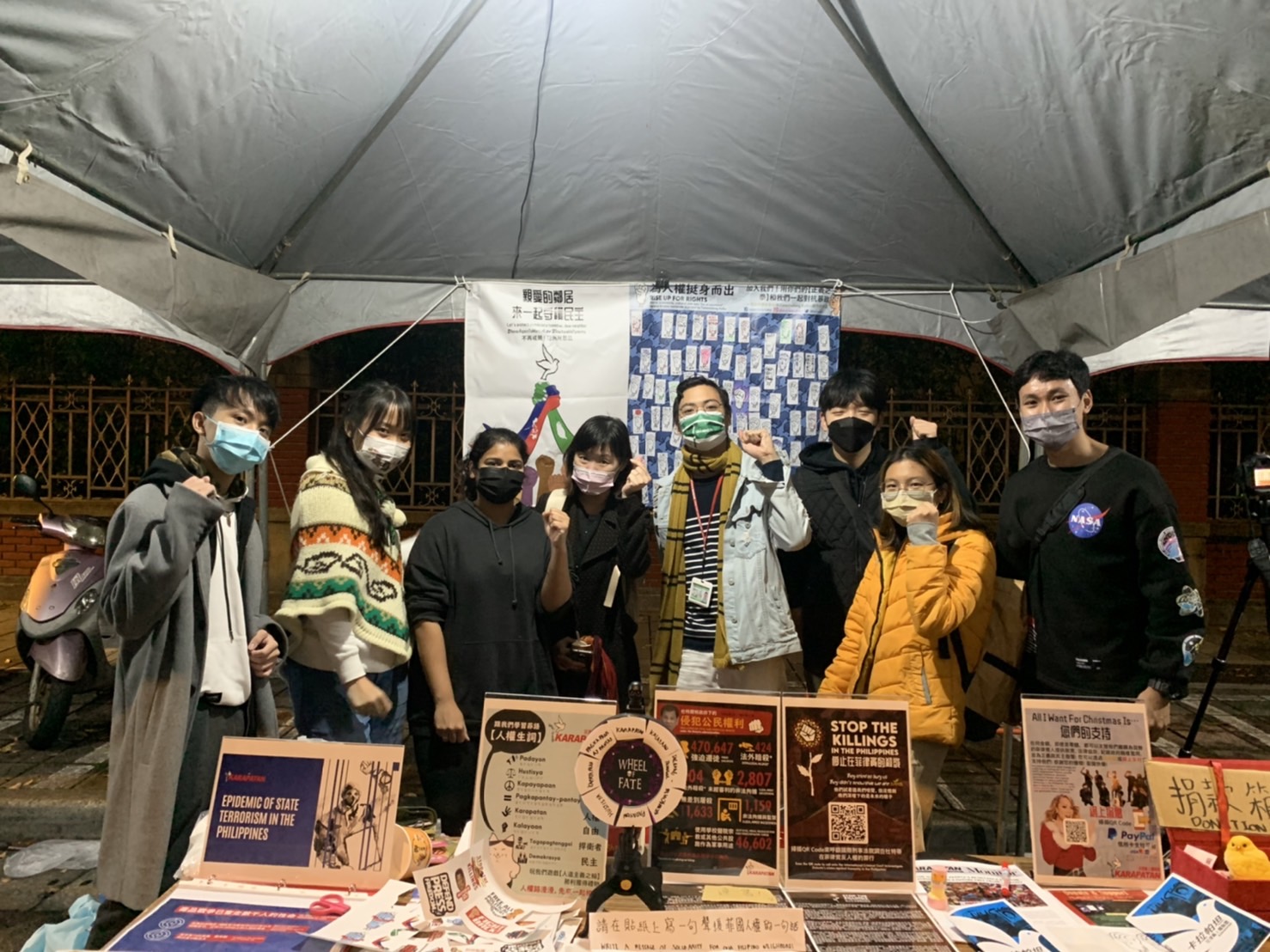 Karapatan Alliance Philippines became the first Filipino human rights organization to join the annual Taiwan Human Rights Fair (人權市集)held last December 25, 2021 at Taipei City. The yearly event, organized by Dr. Chen Wen-Chen Memorial Foundation, aims to highlight local and international civil movements & advocacies over food and drinks as well as foster intergenerational dialogue between attendees and political prisoners during Taiwan's martial law. Such participation was made possible by a Filipino volunteer of the organization and his classmates attending the International College of Innovation of National Chengchi University (NCCU) as well as the college's Office of University Social Responsibility (USR). The Filipino human rights organization was also featured at the Inclusive Innovation USR Project 2021 Fall Exhibition held at NCCU's Dah Hsian Library from January 4 to 7, 2022.
Among the issues featured at Karapatan's Taiwan booth were the Stop The Killings in the Philippines campaigns and reports which were launched last August 2021, the stories of victims of human rights atrocities under the government oppression across various sectors from farmers to indigenous people, an activity introducing Filipino vocabulary about human rights, and an interactive wall featuring the famous "Tumindig" artwork created by Tarantadong Kalbo, where Taiwanese and students of the National Chengchi University designed their own "tuminidig" character with words of solidarity and support for Filipinos advocating for democracy and justice.
"'Inclusive Innovation' is a project initiated by the International College of Innovation (ICI) and funded by the NCCU to address university social responsibility. Supporting Karapatan helps raise public awareness of human rights in Taiwan", said Professor Ou Tzu Chi, faculty member of ICI NCCU & head of the USR project.
"For most Taiwanese people, when they think of the Philippines, only 'migrant workers' come to mind, but not other aspects such as their dire human socio-political situation", said Jasmine Wu, one of the co-organizers of the Karapatan booth and student of ICI. "I believe that this can give both me and other fellow Taiwanese the chance to learn more deeply about our neighbor, and bring diversity towards Taiwan's own human rights circle"
Girard Lopez, the NCCU Filipino student-volunteer of Karaptan, added that while his team in Taiwan faced logistical challenges in translating and contextualizing the current PH human rights situation, all efforts paid off as not only did both veteran local activists and ordinary citizens support for Karapatan's newfound presence, the team was able to raise PHP5,370 from individual donations and amass 50+ signatures calling for the ICC to prosecute Duterte in a matter of hours.
"In fact, the most popular sticker during our booth was the one that said 'Milk Tea Alliance (an anti-authoritarian network of activists from HK, Taiwan, Thailand, & Myanmar) supports Karapatan' in Chinese", he added.
Tinay Palabay, secretary-general of Karapatan, expressed her utmost gratitude for the Taiwan-based student volunteers who spearheaded the initiative.  "We laud Karapatan's volunteers in Taiwan in successfully mounting a booth during the Human Rights Fair in December 2021. We enjoin the people of Taiwan to closely monitor the spiralling human rights situation in the Philippines, especially with the upcoming national elections in May 2022, and to express your solidarity to #StopTheKillingsPH", she said.
Karapatan (翻譯:【人權】) was founded in 1995 by human rights activists who were active in resistance movements against the late Filipino dictator Ferdinand Marcos. They draw attention to human rights abuses in the Philippines through education campaigns and training, providing legal services to victims of human rights violations, and lobbying efforts in the country as well as engaging platforms such as the United Nations and other international bodies. They recently won the 2021 William D. Zabel Human Rights Award for the Advancement of People's Rights by US-based Human Rights First, with Ms. Palabay also bestowed the 2021 Franco-German Prize for Human Rights and Rule of Law.