About ICI Flash Course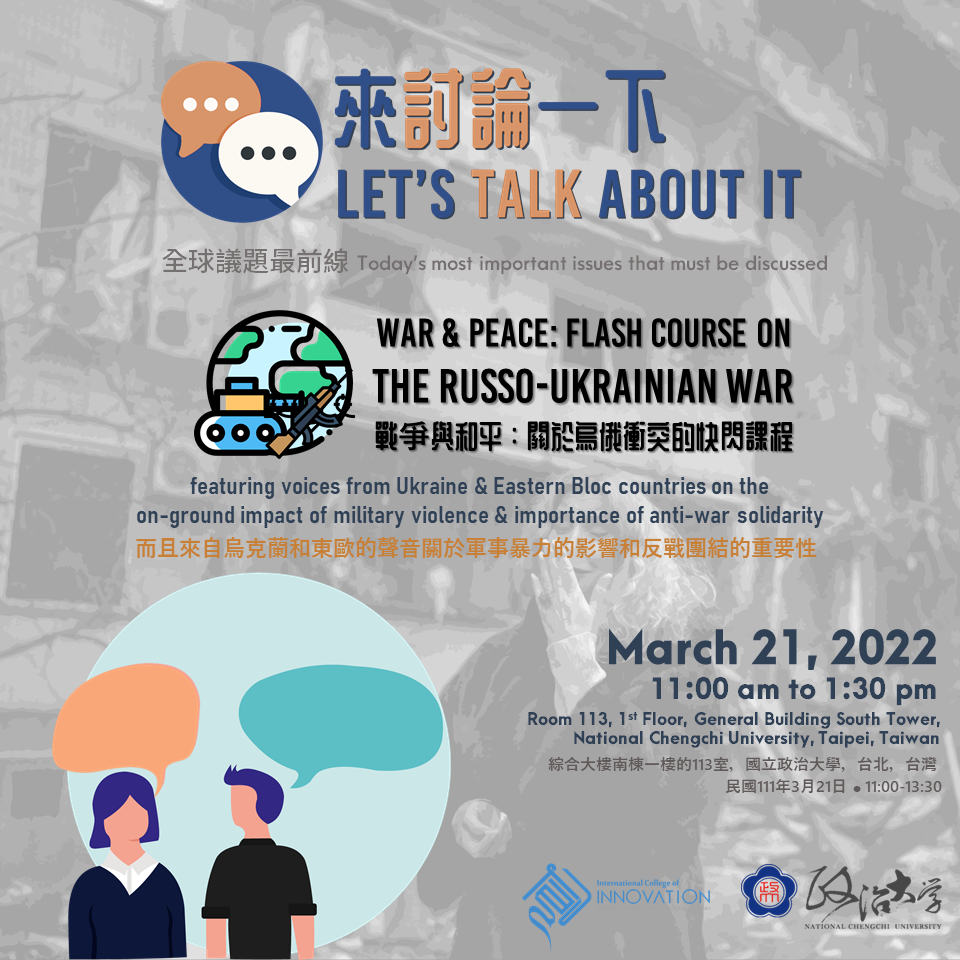 The international College of Innovation as the leading college for innovative and interdisciplinary education aims to co-educate globally engaged citizens coming from all corners of the world. Mindful of our mission as a higher education institution promoting sustainable development, human rights, and democratic governance, the ICI Flash Course thus created signifying our duty to facilitate interdisciplinary and international learning in Taiwan and the Asia Pacific region.
Flash course is a series of seminars and public forums. Seminars would include a group of experts who are invited to give a talk related to current issues to help our students improve the knowledge about the world agenda. Whereas public forums allow students to engage with each other and debate on the chosen topic.
It is our pleasure to invite you to join our March Flash course under the topic of "War and Peace: Discussion on the Russo-Ukraine Conflict ". Current media coverage may not provide the full context unto the roots of the ongoing war This flash course thus serves as the medium to providing a safe environment for inclusive dialogue, mutual understanding, and anti-war solidarity. Stand up for peace by voicing your support!
Topics of the day: ICI Let's Talk about it. War and Peace: Flash Course on the Russo-Ukraine Conflict
11:00-12:30 Seminar @ Room 270113, General Building
A panel of analysis analyzing the current Russo-Ukraine war.
12:40-13:30 Public Forum @ Roman Square
Ukranian Speakers & individuals from Eastern Europe such as Russia, Lithuania, and Poland. The sharing will be followed by discussions with representatives from students, civilians and stakeholders. All is welcome to join our dicussion in the flash course.
Our Panelist (More Speakers to be Announced Soon):
吳建輝Chien-Huei Wu
Institute of European and American Studies, Academia Sinica
連賢明 Hsien-Ming Lien
Vice Dean, International College of Innovation
Professor, Department of Public Finance
袁易 Yuan Yi
Researcher Fellow, Institute of International Relations
Invited Speakers for the Public Forum:
Moderator:
Aurora Chang, New Bloom Magazine
Kuan-Ting Chen, Taiwan NextGen
Invited Speakers:
Alex Khomenko
Temir Sakavov
Tomasz Kocjan
Yulia Koroleva
Evgeny Bondarenko
Gagaeva Galina
Miglė Matekūnaitė
Ričardas Sedinkinas
Gino Lopez
Thomas Liu
James Song