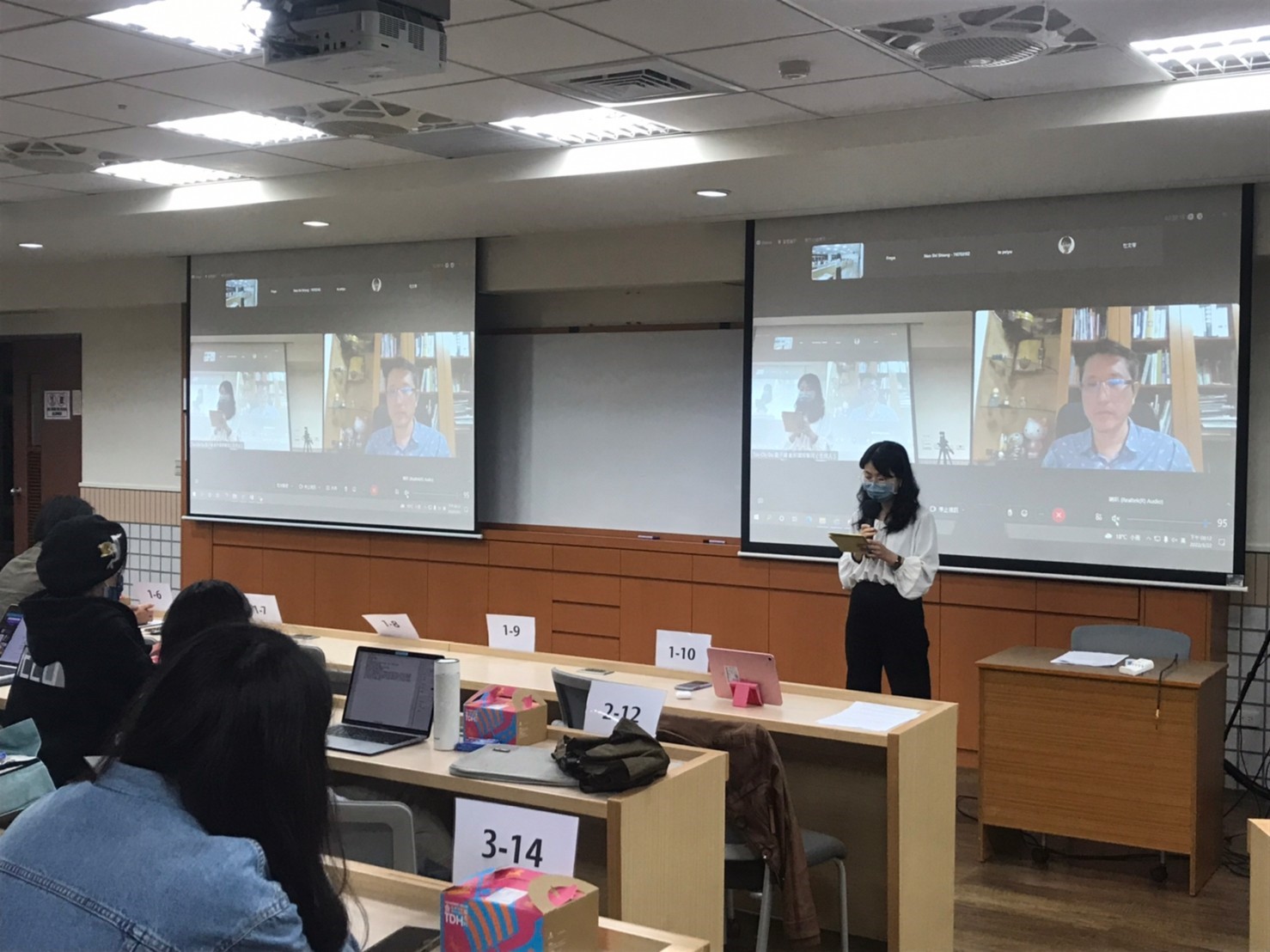 Viewers in National Chengchi University seemingly witnessed first-hand a migrant worker being shot during the test screening of "And Miles to Go Before I Sleep" (Chinese title 九槍 "Nine Shots"), as they watched the police body camera footage of the incident. The documentary pre-screening and bilingual discussion with director Tsung-Lung Tsai (蔡崇隆) was held on March 22, 2022, and was organized by Inclusive Innovation, the International College of Innovation's USR (University Social Responsibility) project. The event was hosted by ICI faculty member Professor Tzu-Chi Ou (歐子綺) and was attended by around 60 viewers.
Currently under post-production edits, Director Tsai's 90-minute documentary unpacks issues on the recruitment and employment of migrant workers in Taiwan. Borrowing a line from Robert Frost's poem for its English title, "And Miles to Go Before I Sleep" explores migrant labor issues while focusing on workplace hazards and unjust living conditions that lead to workers' runaways, injuries, and deaths. As of most recent data (February 2022), Taiwan's Ministry of Labor statistics show that there were 661,882 foreign workers in the country, most of them coming from Southeast Asian countries Indonesia, Vietnam, Philippines, and Thailand. Meanwhile, the ministry also reports that a total of 58,581 "missing" foreign workers continue to be "uncaptured."
"And Miles to Go Before I Sleep" centers on the death of Nguyen Quoc Phi, a Vietnamese factory worker who became a "runaway" migrant. He died in the hands of Taiwanese police after being shot nine times in Hsinchu County on August 31, 2017. In creating this film, Director Tsai seeks to show the structural reasons of the incident as he reflected on the question: would the police have done the same thing if Quoc Phi was Taiwanese? While Director Tsai acknowledged that Quoc Phi is far from being a "perfect victim," he cited how migrant workers continue to be at the margin of human rights protection. In line with this, he believes that higher human rights standards should be held in Taiwan, and that it should be confident enough to face these issues as it works towards positive change.
The documentary weaves together body camera footage of Quoc Phi's shooting incident, news snippets from media coverage, personal interviews, and voice-overs of Quoc Phi's social media posts. Although Director Tsai is experienced with making films on human rights and migrant issues, he sees this piece as something different because of the ambiguous delineation between protagonist and antagonist roles. Director Tsai said he decided to include the twenty-minute body camera footage in cuts, only with minor editing despite it being difficult to watch, as its entirety already answered many questions. Although news coverage of the incident mostly showed a seemingly binary divide between the police and migrant workers, the footage shows there were many other people involved in the event. In the same manner, the documentary incorporates diverse perspectives, leaving its audience to make their own interpretations. Despite acknowledging that the process of creating a documentary is not purely objective, Director Tsai said he made it a point to include different opinions, even those that he may not personally agree with.
Not only is "And Miles to Go Before I Sleep" an emotionally-moving piece, but it also urges its audience to reflect on society's mentality towards migrants. Director Tsai clarified that this mentality may not be to the extent of discrimination, but rather one of stereotype, bias, or fear towards them. Additionally, by incorporating voice-overs of Quoc Phi's social media posts during his life in Taiwan, the film offers a perspective of the soul, as Director Tsai highlights the importance of giving migrant workers the opportunity to have a voice and be heard. Although Quoc Phi's death may be an extreme case, he also pointed out that there have been other similar tragic cases in Taiwan, such as dormitory fire incidents and occupational accidents, that have led to migrants' deaths. He closes the film with a memoriam for "the migrant friends who passed away in Formosa." For him, creating this documentary was a way of letting the public know about migrant workers, what they have been through, and their stories.
References
https://statdb.mol.gov.tw/html/mon/i0120020620e.htm
https://telecom.ccu.edu.tw/index.php?option=module&lang=cht&task=pageinfo&id=190&index=11