創新國際學院 <移民與全球化> 專題系列演講 
International College of Innovation Seminar Series on Migration & Globalization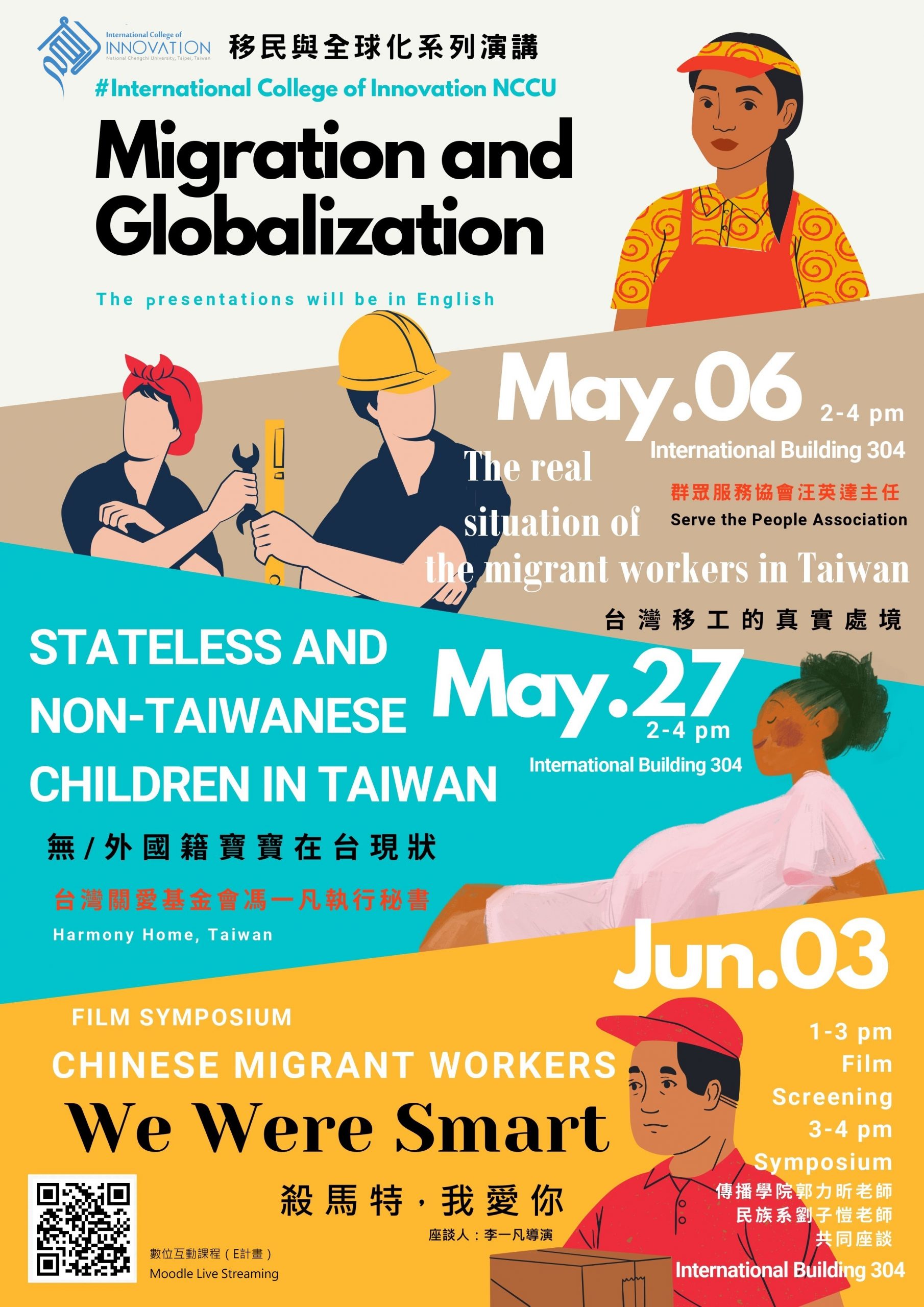 創新國際學院歐子綺老師的〈移民與全球化〉課程,從明天開始,課堂上將舉辦三場客座演講,分別為:
5/06,下午2點。「台灣移工的真實處境」,主講:群眾服務協會汪英達主任。
5/27,下午2點。「無/外國籍寶寶在台現狀」,主講:關愛之家馮一凡執行秘書。
6/03,下午1點。關於中國農民工電影《殺馬特,我愛你》,座談:導演李一凡、傳播學院郭力昕老師、民族系劉子愷老師。
地點都在國際大樓的304教室,演講會以英文進行,問答以中英文進行,很希望可以邀請有興趣的大家一起來教室參與。
另外我們也會在政大E享學集成網上進行直播,大家也可以申請進入課程後觀看直播喔!
See below for English
This is "Migration and Globalization" course taught by Dr. Tzu-Chi Ou, International College of Innovation. From tomorrow, we will start three public lectures in class:
2-4 pm, May 6: The real situation of migrant workers in Taiwan
2-4 pm, May 27: Stateless and non-Taiwanese children in Taiwan
1-4 pm, June 3: Chinese migrant workers film stymposium "We Were Smart"
The venues will all be in classroom 304 of the International Building. The presentations will be in English. We will invite everyone who is interested.
In addition, we will also broadcast live on Enjoy E-Learning Hub, NCCU. You can apply for and enter the course to join the live video streaming!